Why Buy New When Effective Computer Repairs and PC Upgrades Are Faster and Save You Money?
Whether you're a business owner with several computers or a home user with just one or two, it's frustrating when your technology won't do what you need it to, is slow to operate or has simply stopped working altogether.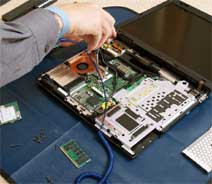 When that happens, it's very easy to believe that the best solution is to either buy a new computer, or at the very least buy new components to replace those that aren't performing as you expect them to.
However, it's often the case that a quicker, more cost effective solution is to have your computers repaired, or upgraded by a local IT specialist.
Great Service, Fast Response
At KTS Computers Ltd, we have years of experience in providing a fast, effective and affordable computer repair and upgrade service that saves you money on buying new machines and components, whilst allowing you to keep up with advances in computer technology.
With a vast knowledge of both hardware and software, you'll find that we can offer you a fast response that starts with providing free, impartial advice that helps you to make the right decision and ensures you don't spend more than you really need to.
To speak to an engineer right now, please call us on 01480 469019 for an informal chat and we'll be happy to advise you wherever we can.
Affordable Solutions, Whatever You Need
Whether you need a simple computer repair, a single hardware or software upgrade, or even a complete re-build, you'll find that KTS Computers Ltd can provide you with an affordable solution that doesn't compromise on quality.
Our highly qualified engineers are always on hand to help and will start by evaluating your computer, it's components, it's software and any problems that may currently exist.
We'll then present you with a free estimate that will detail the options available to you and the respective costs involved, helping you make the right choice and avoid potentially costly mistakes.
Here's just a small sample of the type of repairs and upgrades we can help you with:
Memory
Hard drives and additional storage devices
Video and graphic cards
Power supplies
Network cards and USB devices
Motherboards and processors
Operating systems
Security software and more…
Money saving tip
So, whether you have a personal computer or a network of business PCs not working as you'd like or not working at all, don't just rush out to buy new equipment.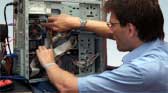 Call KTS Computers Ltd on 01480 469019 and see if we can save you time and money with a PC repair or upgrade. With state of the art equipment and our years of experience we have the ability to rapidly diagnose and reliably repair your computer. If you prefer, you can also send us your enquiry by email and we'll get back to you as soon as possible.
Our expertise allows us to cover all types of manufacturers, both hardware and software which includes makes such as Dell, Toshiba and HP running Microsoft Windows operating systems among others.
You may also like to explore our website to find out about the other services we can offer including ongoing maintenance, server build and support, networking, AVG security, software and much more..
Contact us for more details.