About us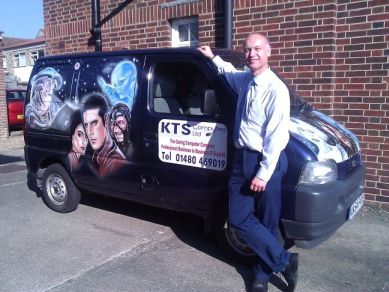 Most small businesses rely on at least 1 computer, but can find themselves using precious company time to keep the computers running. Based in St Ives, KTS Computers supply, install and configure new PCs, servers and laptops, run network cabling, repair PCs, remove malware (viruses etc) and even liaise with companies like BT when you can't get anywhere with them. In fact, anything a small business needs to keep their IT earning them money (We strongly believe IT should give companies return on investment).
An early starter!
Prior to setting up his own business over 18 years ago (1996), Ken Seymour supported computers for such diverse organisations as Number One Systems, MJ Hire, the Passport Office and the MoD. He has not only repaired but also designed circuit boards that have been used around the world. Using this experience, KTS Computers work with businesses with between one and 30 computers to get their computer systems working the way they need it to work, not the way it arrived from new or the way Mr. Gates wants you to use it!
Ken realised that there were a number of small businesses who needed help with their IT and wanted them to benefit from these years' of experience (having been supporting computers for businesses since 1987). Initially he worked from home and KTS Computers rapidly became full time business. Word of mouth recommendations, along with an excellent reputation for quality workmanship, took the business from strength to strength.
Additional help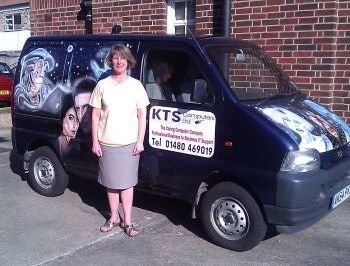 In 1998 Christine (Ken's wife) realised that the business needed someone to run the background day to day management, so that Ken could concentrate on the support of customers' systems. Christine joined KTS Computers managing the ordering, invoicing of work and other administration tasks. This freed Ken off to concentrate on the technical and support aspect of the business at which he has proved adept!
The business & team grow
By continuing to give friendly professional advice and support, combined with competitive rates, KTS Computers has grown and taken on various part time, then full time, staff. KTS Computers became a limited company in January 2003. We have currently three trained professional computer engineers/technicians, which between us gives over 50 years combined experience in the computer industry! Our offices in St Ives are run by Christine (full time) and one part time admin assistant (Denise).
Although not as large as some other IT service companies, we believe that our size gives us a competitive edge. We can offer the quality and backup of a large company coupled with the personal service that you'd expect from a smaller concern—the best of both worlds!