On-line Backup (Cloud) & Hard Disk Backup
Simple, Automatic Secure Backup, is this practical?
Are your photos important?
what would happen if that presentation you spent last night creating was unusable today?
How critical to your business is the accounts?
Is there a simple way to have peace of mind?
Chances are you have a lot of important stuff on your computer like financial documents, email, digital photos, music and more. Unfortunately, computers are vulnerable to hard drive crashes, virus attacks, theft and natural disasters, which can erase everything in an instant.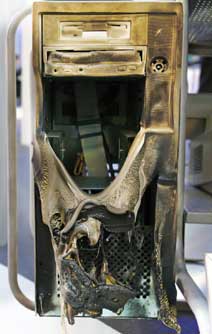 In fact, data loss can happen at any time. Statistically, a hard drive crashes every 15 seconds and 60% of businesses who lose their data go bankrupt within 6 months. For the cost of the average business lunch, your company data can be backed up automatically, securely, and with little to no effort.
A key question with on-line backup solutions is "How secure is my data"?
The company KTS Computers Ltd work with to ensure that your data is secure has the following security features:-
Secure SSL encryption - Safely secures your data during transport.
AES/Blowfish encryption - Choose an encryption key using 448-bit Blowfish encryption or manage your own key using military-grade 256-bit AES encryption to secure your data during storage.
Near Continuous Data Protection - Our backup automatically detects and backs up new and changed files.
Data stored in European data centre, not US data centres
This means that although the data is not on your premises, it is extremely safe. Only you can access the data, and that is both whilst being uploaded / downloaded from the servers or whilst in storage in the cloud.
Why can't I carry on using my tape backup?
You can! You can use both and online and a local tape backup, but are you aware of the limitations of tape? For instance, that tape cartridges should be replaced at least every 2 years as the tape stretches and degrades. After all what is the point of a backup that can't be read? Sadly very few business (only 34% of those that use tape backup) check them, and of those that do, 77% notice some form of tape failure!
Don't risk losing your data and your business, Call us today on 01480 469019 for full details and a free consultation, or alternatively send us your enquiry by email and we'll be in touch as soon as possible. KTS Computers Ltd can both advise and carry out all the necessary work to ensure your system meets your requirements.
Call us for more details.